Hobbiton in Matamata
It's impossible to write about everything we saw and did. For anyone interested enough to be reading my blog, I thought I'd do an abbreviated rundown of all the beer related stops. We went to New Zealand for a little over two weeks in September. We tried to see as much as we could, but it's a big country. Our trip made us want to go back and see more; we know where we'd love to go back and which new places would be worth another adventure.
Brewers Co-Op Auckland
New Zealand hops and beer have been having a boom the world over. I learned from brewers there that procuring NZ hops is difficult as big brewers gobble them up before the little guys can order. Despite this, every brewery had many beers with NZ hops, namely NZ Pilsners and Pale Ales. Like authentic brewers the world overs, many use the hop varieties appropriate for style: Old World for English and German styles, American for ours. In general I learned that the NZ beer drinker seems to have a UK sensibility: malt forward and lower ABV. I remarked about this a few times and it didn't seem to occur to them; it's just what they drink. The popular breweries in Auckland and Wellington skewed more toward IPAs and higher ABV; I suppose that's what a city and condensed population demands. I was also shocked and thankful how cheap the country is and beer is specifically. Many breweries had flight options under $15 USD, with single Imperial pints costing $5USD or less.
150 mil New Zealanders
Our Airplane
Our trip wasn't about beer. I'm a huge Tolkien fan and saw as many of the major locations as time allowed. Our first day we stayed on a farm outside Cambridge, a brief drive from Hobbiton in Matamata. I believe this was my favorite day of the entire trip; it was surreal to be on that real-life set, we had a great tour guide, an some exclusive beers at the end of the tour. In Wellington, we went to "Wellywood" and toured the Weta Workshop, where all the props, makeup, and effects for the films were done. After we visited Te Papa, the national museum of the country and saw the Gallipoli and Natural New Zealand exhibits. My other half is a photographer, so we spent many hours on road pulloffs to get those perfect shots. It's a great country in which to eat, with warm hearty and extremely flavorful food. I unfortunately had a stomach bug for the first few days of the trip; food and beer just didn't taste or feel good so I got bottles to go and skipped a bunch of places. I tried to make up for it after I felt better.
Highlights were meeting my Untappd friend John in Wellington, where we went brewery hopping together. We also saw our friend Ritchie who took us all around the Christchurch countryside including an impromptu brewery visit.
Geysers
Again, I don't want to make this super long and overly detailed. Below please find the breweries I visited and a few comments about each. Please see my Instagram for more photos and background information. Specific beers I got to try are too numerous to write about, a complete list can be found on my Untappd (although admittedly, some nights I may have gotten a little confused). As always, thank you for reading! It feels great to be back sipping beers in the warmth of the Aloha State again.
Green Dragon Inn
Matamata: Hobbiton – exclusive beers brewed by Good George in Hamilton, 4 are on tap at the Green Dragon Inn and only available for purchase here. Any one pour is included with the tour.
Lakeman Brewing
Lake Taupo: Lakeman Brewing – I had some in Turangi and posted to Instagram, the private family business invited me to drop by, see the farm, and taste some beers.
Rotorua: Croucher Brewing/Brew – this bar is the only taproom for Croucher, which is a private facility outside the town. We had amazing hearty food and too much food; I didn't realize I was starting to get sick here.
Napier: Zeelandt Brewery – One of my worst health days, I still tried a few samples and bought a variety pack and 3 limited releases, many of which made it home with me.
Havelock North: Giant Brewing – a pre-arranged visit due to being closed the day we were in town, we met the owner and tried all their beer, taking a few for the road.
Wellington Harbour
Wellington: Black Dog Brew Co – another pre-arranged visit, I had a nice long private tour with the manager Adrian who explained the business, beer, and distribution. He was especially generous, taking me through tastes of every beer on tap and a delicious pie on the side (I couldn't get enough NZ meat pies)!
Black Dog Brew Co
Wellington: HUSK/Choice Bros Brewing – thanks to my friend John, we met here and had a few flights. All beers here are made on their nano system; it was an eclectic and cozy spot, even sitting outside on a freezing evening.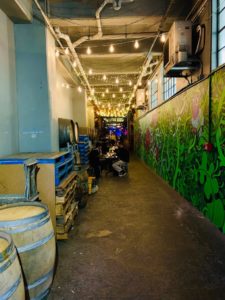 HUSK
Wellington: Garage Project – both the OG actual car garage location, and the new taproom facility across the street. The bartenders took the time to let us try every beer on tap for free, before we headed to the taproom where we were met with even more options. I appreciated John's historical explanation of the area and NZ's beer culture.
Christchurch: Eruption Brewing – On our long drive around the area with Ritchie, we eventually stopped in Lyttelton for a drink; of course there happened to be a brewery across the street and we went in for a flight. This was a tiny place with a great view of the old port town.
Christchurch: Two Thumb Brewing – After our long day, I quickly headed around the corner from our hotel to check out this brewery. The bartender was super friendly and let me stay as long as I needed. The flight glasses here were huge, so he let me try all the rest on tap free as he explained about the business. One unique thing here is they offered four of their main beers on beer engine, hand pulled to glass giving a faux-nitro profile that paired perfectly with the English styles. This was another evening I appreciated being inside as it was freezing cold.
Eruption Brewing
Dunedin: Speight's Ale House – After our longest drive, we arrive in Dunedin and met issues as Fleetwood Mac was also in town. It was a mad house. I popped into Speight's, one of the oldest big breweries in the country and was treated to a flight box that included all their beers for a low price. They even included an information card so you could read about each one. They also have tours and a large gift shop/tasting room, but I didn't have time to enjoy. Yes, it's big beer, but I enjoyed them and the experience.
Searchlight Brewing
Queenstown: Searchlight Brewing – Queenstown is very touristy and beautiful. It's filled with bars in town, but the two breweries in the area required an Uber. I was thankful for the tranquility of Searchlight, with a knowledgeable bartender and view of the mountains. I tried every beer they had and had a few pretzels along the way.
Dr Rudi's
Auckland: Dr Rudi's Rooftop Brewing – We saved Auckland for the end and were met with two days of rain. It didn't spoil the fun. Auckland's breweries are almost all outside of the city in industrial suburbs so we didn't make it to the famous ones. I did go to a few micros in town, as well as some amazing bars. Dr Rudi's was a gorgeous rooftop space overlooking the marina and waterfront. They had 4 beers on tap, so I tried them all.
Shakespeare Hotel
Auckland: The Shakespeare Hotel & Brewery – Our final brewery visit was the oldest micro brewery in the country. This old hotel opened a small brewery almost 40 years ago and rotates a few selections, as well as a handful of bottles. It was the perfect final place to enjoy a few $3 happy hour beers made right there, listen to the anguish of the Rugby World Cup waters, and listen to the rain.
Cheers, thanks for reading!
A Very Tired Author